Flogging Molly
Band Members :
Dave King (lead vocals, acoustic guitar, bodhrán), Bridget Regan (violin, fiddle, tin whistle, percussion, backing and lead vocals), Dennis Case (guitar, vocals), Matt Hensley (accordion, concertina, keyboards, vocals), Nathen Maxwell (bass guitar, vocals), Bob Schmidt (mandolin, banjo, guitar, vocals), Mike Alonso (drums, percussion)
Links :
Instagram
Videos
Gallery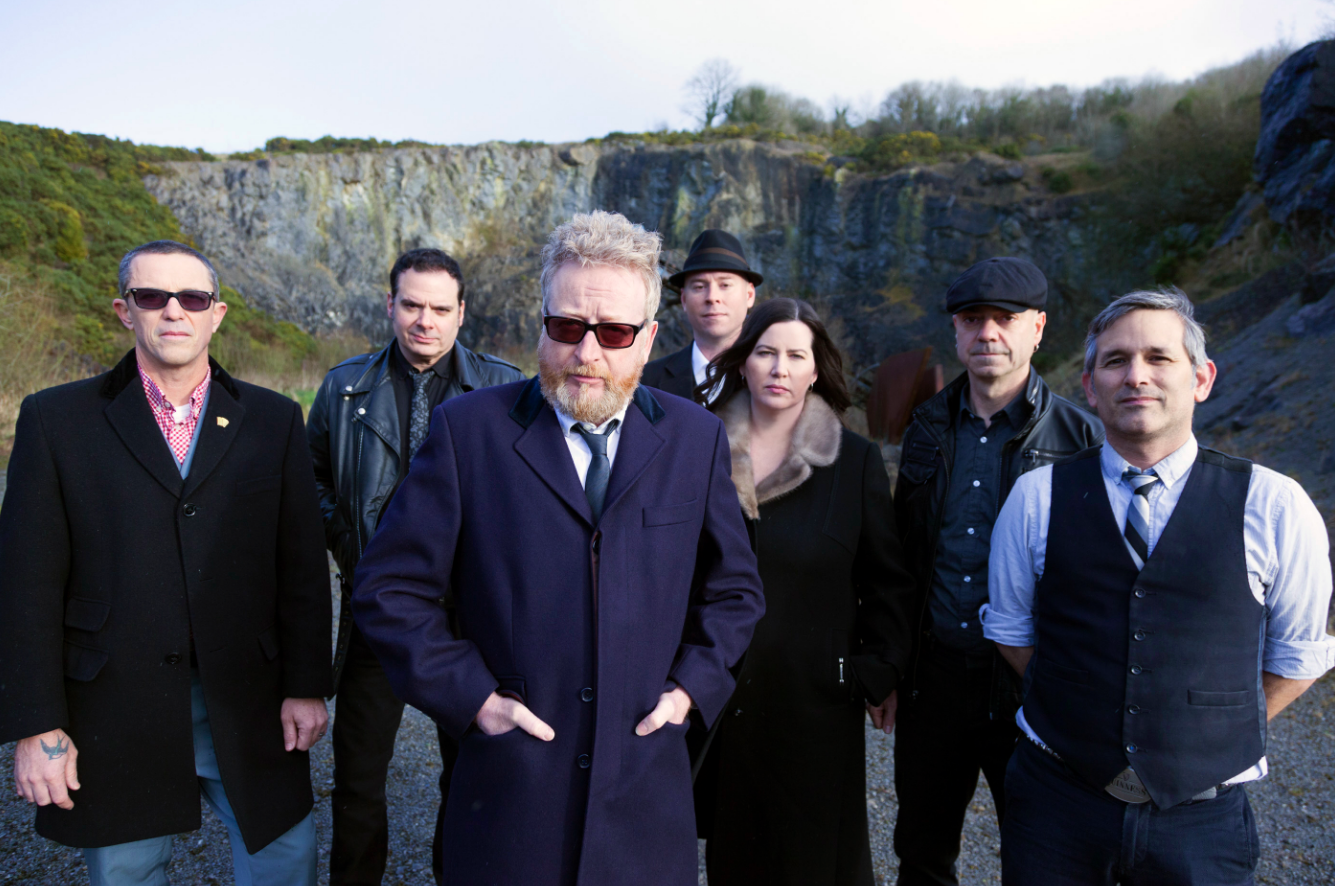 Biography :
Prior to forming Flogging Molly, Dublin-born Dave King was the lead singer for heavy metal band Fastway featuring guitarist "Fast" Eddie Clarke of Motörhead and bassist Pete Way of UFO in the early to mid '80s. He later fronted a hard rock band called Katmandu (1991), featuring Mandy Meyer of Krokus on guitars. Afterwards, Dave King retained a record deal with Epic records and began to work on a solo album, but began to reconsider his record deal when the label opposed his idea of bringing in traditional Irish instruments. King negotiated out of his record deal to go his own way musically soon after.
In 1993, King met guitarist Ted Hutt, bassist Jeff Peters, and violin player Bridget Regan and put together a rock band with a Celtic feel. They began to play a mix of Irish traditional and rock. Putting Dave's poetic lyrics to rocking melodies, they played at a Los Angeles pub called Molly Malone's weekly, building a small but loyal following. Together, they wrote songs such as "Black Friday Rule" and "Selfish Man", which was the beginning of Flogging Molly's sound. Ted and Jeff then left Flogging Molly because an earlier band of theirs, Reacharound, received a record deal. Dave and Bridget began to find new members and the current band was formed.
From March 13 to 16, 2015, Flogging Molly began hosting a yearly Caribbean cruise. The 2015 Salty Dog Cruise Cruise featured shows by the band and many others (The Real McKenzies, Frank Turner, Gogol Bordello, among others), over three days leaving from Miami to Nassau and Great Stirrup Cay on the Norwegian Sky. All bands performed two times on the stages throughout the ship or on the special stage set on Norwegian's private island of Great Stirrup Cay.
In 2016, from March 18 to 21, the second yearly cruise took the same itinerary on the same ship and hosted, among others, Rancid, Fishbone, Frank Turner, Street Dogs and The Tossers.
In 2017, the Enchantment of the Seas hosted the third annual cruise that left on March 10 to Coco Cay and Nassau, until coming back to Miami on March 13. The guests invited by the band were NOFX, DeVotchKa, Less Than Jake, The English Beat, The Skatalites, The Bouncing Souls, Dylan Walshe and many others.
On August 21, 2017, the band announced that the 2018 cruise will take place April 20–23, leaving from Miami, sailing to Key West and to Great Stirrup Cay. Originally, the cruise was supposed to take place on the Enchantment of the Seas as in 2017; however, the ship was changed and the Norwegian Sky has been announced. The line-up includes The Offspring, Buzzcocks, The Vandals, Lagwagon, and Mad Caddies, among others.
source: Wikipedia