Grimskunk
Band Members :
Franz Schuller (rhythm guitar, vocals), Joe Evil (keyboard, vocals), Ben Shatskoff (drums), Vincent Peake (bass guitar), Peter Edwards (lead guitar)
Links :
Videos
Gallery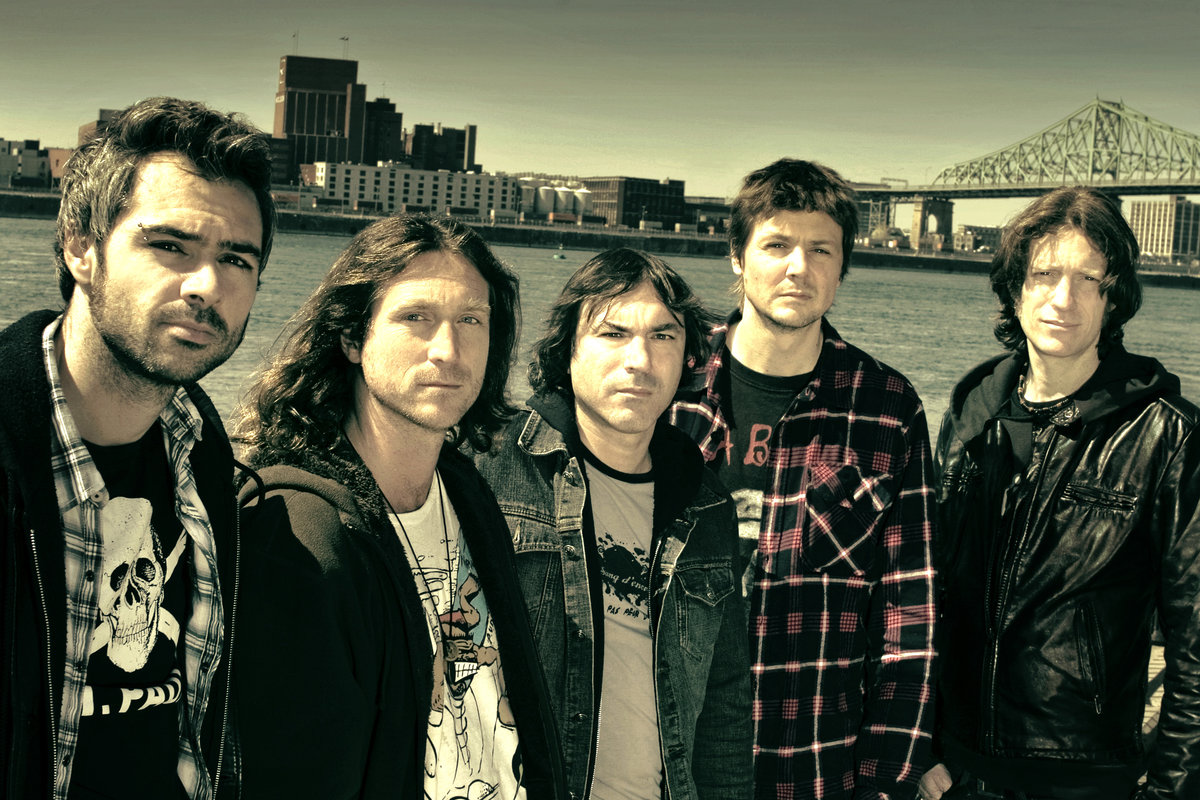 Biography :
GrimSkunk was formed in 1988 from a previous hardcore group known as Fatal Illness.[2] GrimSkunk played its first show in April, 1989. The band's first demo album, Autumn Flowers, was released two years later, in April 1991. Along with Groovy Aardvark, the band was among the first "alternative" bands to tour Quebec, thus creating a market for this genre.
In the first years of GrimSkunk's career, cannabis was always very present in the band's image. Hemp leaves were on their CD covers, and references to cannabis could be found in the albums' names (Autumn Flowers, Exotic Blend), in their songs' titles (Zig-Zag), and in their lyrics ("Pourquoi, pourquoi ne pas fumer? / C'est ben légal de boire", Why, why can't we smoke / Isn't it legal to drink?). The band's name itself is an allusion to skunk cannabis.
The band's second album, Meltdown, was released in 1996.
In 1997, GrimSkunk members founded an independent Montreal-based record label, Indica Records. From then on, all of the band's albums were released on that label, which also helped to promote local alternative bands.
The band took a break in 2000 after the singer, Joe Evil, suffered serious burns from a fire in his apartment. In 2002, the band released its seventh album, Seventh Wave, which was not well received by certain critics and fans who did not like the musical change in direction.
In 2006, the band released Fires Under the Road, which marked a return to the sound of the earlier albums.
Autumn Flowers Demo (GrimSkunk Productions) 1991
Exotic Blend E.P. (GrimSkunk Productions) 1992
Rooftop Killer 7″ (GrimSkunk Productions, L'Oblique, en Guard Records) 1993
Grim Skunk (Indica Records) 1994
Meltdown (Indica Records) 1995
Autumn Flowers – Rerolled (Indica Records) 1997
Fieldtrip (Indica Records) 1998
EP 2000 (Indica Records) 2001
GrimSkunk Plays… Fatal Illness (Indica Records), 2001
Seventh Wave (Indica Records), 2002)