Guitar Wolf
Band Members :
Toru (drums), Seiji (guitar), U.G (bass)
Links :
Videos
Gallery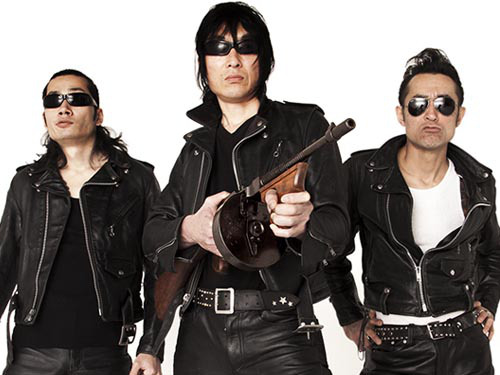 Biography :
Guitarist Seiji was born in Nagasaki and following high school moved to Shimane prefecture and then Tokyo. After arriving in Tokyo, Seiji became lead vocalist for the band, Far East Punch. With a strong desire to play guitar and after giving up on several attempts, Seiji finally dedicated himself to the guitar after discovering a vinyl copy of Link Wray's "Rumble" at Tower Records in Shibuya. Seiji has stated that the Link Wray song "saved his music life.
Seiji and bassist Billy became friends while the two were in Harajuku. The two crossed paths while working, Seiji in a used leather jacket and 50s clothing and antique shop and Billy in a punk rock shop located behind Seiji's shop. Realizing they shared similar musical tastes, the two decided to join together to play rock and roll. After convincing Seiji's coworker Narita to accompany them on drums, Guitar Wolf formed in Harajuku in 1987. After creating the band, each member adopted a Ramones-style surname reflecting their instrument of choice: Seiji became Guitar Wolf, Billy became Bass Wolf, and Narita became Drum Wolf. In time, Narita left the band, apparently to become a fortune teller, and was replaced by Toru, a drummer suggested by Enocky from the band Jackie & The Cedrics.
Billy (Bass Wolf) performing at Exit/In during the final leg of Guitar Wolf's 2005 U.S. tour
In 2002 the band made the move to Narnack Records where the band continued to release material until 2005 when the band released their greatest hits album, "Golden Black." That same year after completing a U.S. tour, the band returned home to Japan where bassist Billy/Bass Wolf suffered a fatal heart attack at the age of 38. Billy, whose real name was Hideaki Sekiguchi, died in Tokyo on March 31, 2005, and is survived by his wife and two children. In September 2005, Guitar Wolf played their first show with their new bassist, U.G.
source: Wikipedia