Guttermouth
Band Members :
Mark Adkins (vocals), Justin Van Westbroek (guitar, bass ), Matt Wills (guitar), Geoff Armstrong (guitar)
Links :
Videos
Gallery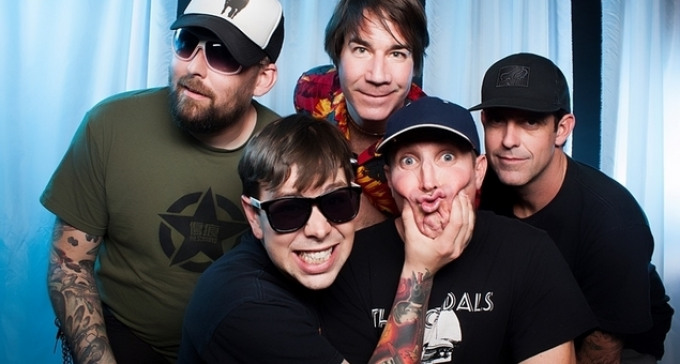 Biography :
The members of Guttermouth began playing music in various parts of Orange County, California in the early 1980s. Singer Mark Adkins performed in the La Habra punk rock band Republic in 1982 with guitarist and classmate Scott Sheldon. Adkins and Sheldon would remain the only two permanent members of Guttermouth over the next twenty-six years, and some of the songs written by them at this time would later be used in Guttermouth and would remain in their live set throughout their career.
In 2005 drummer Ty Smith left Guttermouth and was replaced by Ryan Farrell. Bass player Kevin Clark departed the following year and founding member Clint Weinrich returned to the group. This lineup recorded the band's tenth album Shave the Planet, released in 2006 by Volcom Entertainment. The album found the band once again using their brand of humorous punk rock to poke fun at a number of subjects. Although Weinrich remains a member of the band, Clark has since rejoined the group and handles most of the touring. In June 2008 Farrell announced that Sheldon had left the band to focus on his family, having recently had a fourth child. The band's official Myspace profile lists Sheldon's replacement as Dave Luckett, with Donald Horne being replaced by Hunter Munich. In December 2008 Adkins announced that the band had returned to Hopeless Records, one of their first record labels, in celebration of their 20th Anniversary, and that Guttermouth is working on a new album. A further line-up change occurred in 2009, when Munich was replaced by Brandon Zinkil.
After a hiatus and further controversy on a 2013 tour, singer Adkins moved to Mexico and reformed the band in 2015.
Guttermouth with Bird Attack Records and Rude Records released Got it Made, a six-song EP, on July 15th 2016.
Full Length LP (1991)
Friendly People (1994)
Teri Yakimoto (1996)
Musical Monkey (1997)
Gorgeous (1999)
Covered with Ants (2001)
Gusto (2002)
Eat Your Face (2004)
Shave the Planet (2006)