Millencolin
Band Members :
Nikola Sarcevic (bass guitar, vocals), Mathias Färm (drums), Erik Ohlsson (rhythm guitar), Fredrik Larzon (drums)
Links :
Instagram
Videos
Gallery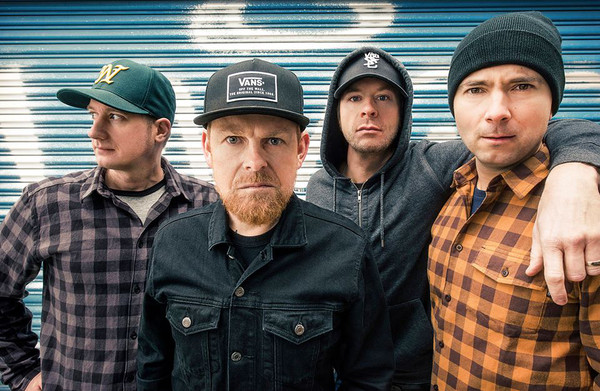 Biography :
The original lineup, consisting of Sarcevic (vocals & bass), Ohlsson (guitar), and Färm (drums), released their first demo tape, Goofy, in early 1993. Soon afterwards, Larzon joined the band to play drums, allowing Färm to perform as the second guitarist. In the summer of 1993, they recorded a second demo tape, Melack. The band sent the tape to Burning Heart Records, a new record label formed earlier that year. They signed Millencolin to do a CD single, which culminated in the release of Use Your Nose in November 1993.
Success of the single prompted Burning Heart to sign the band to release a full album. In July 1994, the band released Skauch, initially planned to be a single for their new album. However, the band decided to record four cover songs as well and released it as an EP instead. They put out their first major release, Tiny Tunes, in 1994. The recording and mixing of the album took two weeks. Legal trouble with Warner Brothers over the title and cover artwork of the album led the band to re-release it in 1996 under the name Same Old Tunes.
Millencolin continued to tour and in 1995 brought out their second full-length album Life on a Plate. This coincided with Millencolin beginning to tour outside of Scandinavia. At the end of 1995, the US record company Epitaph wanted to release Life on a Plate in the US, and the band agreed. They then toured further afield, touring Japan, Australia, Brazil and Canada, and played as part of the 1997 Warped Tour.
On May 29, 2012, Millencolin released The Melancholy Connection, a follow-up compilation to The Melancholy Collection featuring b-sides from Pennybridge Pioneers onward. The album also features a DVD of a behind-the-scenes look at the previous decade of the band.[11]
In February 2015, Millencolin announced their latest album True Brew would be released in April. The first track "Sense & Sensibility" premiered on YouTube, with a three-part mini documentary about the making of the album being posted leading up to the release. The album was released at different times in different regions; on April 22 in Sweden; April 24 in Australia, Austria, Belgium, Germany, Luxembourg and the Netherlands; April 27 in the rest of Europe and on April 28 in the US.
source: Wikipedia