Mustard Plug
Band Members :
Dave Kirchgessner (Lead Vocals), Colin Clive (Guitar, vocals), Rick Johnson (Bass, Keyboard), Nathan Cohn (Drums), Brendon Jenson (Trumpet, Backing vocals), Jim Hofer (Trombone)
Links :
Videos
Gallery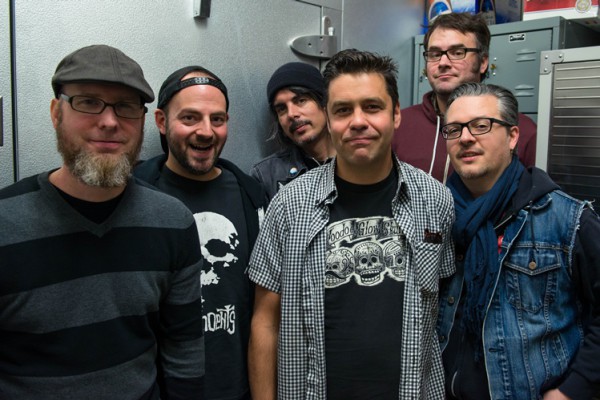 Biography :
Formed in 1991, the band's original members were Dave Kirchgessner, Mike McKendrick, Colin Clive, and Anthony Vilchez. Currently the band consists of Dave (Vocals), Brendon Jenson (trumpet), Jim Hofer (trombone), Nate Cohn (drums), Colin Clive (guitar/vocals), and Rick Johnson (bass). The band has regularly toured throughout the United States, Europe, Japan, and South America. They have toured with the Warped Tour twice, and participated in the Ska Against Racism Tour. As of 2014, the band has released seven studio albums and continues to tour actively.
Explaining the band's goal, Jim Hofer said, "We may have some messages in our music, but essentially we just do this because we love it and we want people to lighten up and have fun."
In August 2013, Mustard Plug used Kickstarter to fund the recording of a new album. Can't Contain It was released by No Idea Records on January 14, 2014.