No Use For A Name
Band Members :
Ramon Gras (lead vocals (1986-88)), John Meyer (lead vocals (1986–87)), Doug Judd (lead guitar (1986-87)), Rob Upson (rhythm guitar (1990)), Chris Dodge (rhythm guitar (1986-87, 1991–92), lead vocals (1988-1989)), Steve Papoutsis (bass guitar (1986–95)), Rory Koff (drums, percussion (1986–2011)), Tony Sly (lead vocals (1989-2012), rhythm guitar (1993-2012), lead guitar (1987-1992)), Robin Pfefer (lead guitar (1993)), Ed Gregor (lead guitar (1993–95)), Chris Shiflett (lead guitar (1995–99)), Matt Riddle (bass guitar, backing vocals (1996–2012)), Dave Nassie (lead guitar (1999–2009)), Chris Rest (lead guitar (2009–12)), Boz Rivera (drums, percussion (2011–12))
Years Active :
1986
- 2012
Links :
Videos
Gallery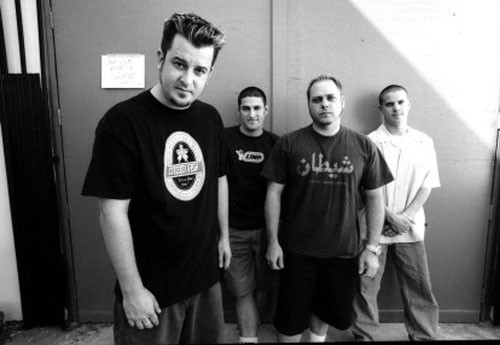 Biography :
No Use For a Name was formed in 1986 by longtime friends Dodge, Papoutsis and Koff. The early rehearsals of the band had taken place at a warehouse in Sunnyvale owned by Koff's father, where they also came up with the name for the band. During this era, the band was fronted by Papoutsis' friend John Meyer. Initially a four piece, it later expanded to a six piece, adding as a co-vocalist Ramon Gras and a second guitarist Doug Judd. The band experienced many line up changes during this period. In 1987, Dodge left to play in another Bay Area punk band, Stikky, while in summer that year, both Meyer and Judd left the band with Tony Sly replacing Judd on guitar. This line-up first appeared on Maximum RocknRoll's 1987 Turn it Around compilation, with the song "Gang Way". In 1988, Gras fell out with the rest of the band and left before an important show at Gilman and a live appearance on the KFJC radio show. In a tight spot, the band asked the former guitarist Dodge, who before the formation of No Use had sung in other local bands, to rejoin as vocalist, which he agreed. This line-up of the band recorded two EPs; No Use For a Name on Woodpecker Records and Let 'em Out on on Slap A Ham Records. In 1989, Dodge left again which allowed Sly to take over vocals and songwriting.
The band's sound evolved considerably through its career, starting off as a Bay Area-influenced punk band, moving on to a much heavier metallic-tinted sound to finally taking on a much lighter brand of melodic punk as the years passed. The band's career ended in 2012 following Tony Sly's death on July 31 of that year.
source: Wikipedia