Pennywise
Band Members :
Jim Lindberg (lead vocals), Fletcher Dragge (guitar, backing vocals), Randy Bradbury (bass, backing vocals), Byron McMackin (drums, backing vocals)
Links :
Instagram
Videos
Gallery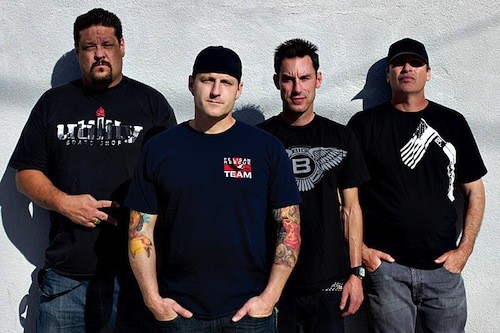 Biography :
Pennywise was formed in 1988 in Hermosa Beach, California, by singer Jim Lindberg, guitarist Fletcher Dragge, drummer Byron McMackin and bassist Jason Thirsk. They released two EPs A Word from the Wise and Wildcard (both 1989). Each of the band members had played in other bands in the Hermosa Beach area and attended Mira Costa High School, except for McMackin, who attended Redondo Union High School.
Pennywise's current line-up consists of Jim Lindberg (vocals), Fletcher Dragge (guitars), Randy Bradbury (bass) and Byron McMackin (drums). They had kept their original line-up together until bassist Jason Thirsk died of a self-inflicted gunshot wound in 1996, due to issues with his alcoholism, after which Bradbury joined as his replacement. In August 2009, Lindberg decided to leave the band; he was replaced in February 2010 by Ignite singer Zoli Téglás.[2] With Téglás, the band recorded their tenth studio album All or Nothing, which was released on May 1, 2012.[3] Lindberg rejoined the band later that year after Téglás was sidelined by a back injury.