The Planet Smashers
Band Members :
Matt Collyer (Guitar, Lead Vocals), Dave Cooper (Bass Guitar, Backing Vocals), Patrick Taylor (Trombone, Backing Vocals), Alexandre Fecteau (Tenor Saxophone, Backing vocals, Keyboard), Scott Russell (Drums)
Links :
Videos
Gallery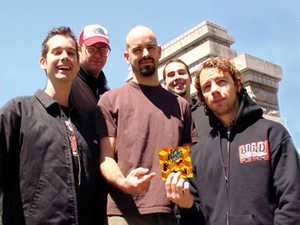 Biography :
The name "The Planet Smashers" was first used in 1992 for a band including Matt Collyer, Ceco Munaretto, Andrew Conway and Dave Jones. The original group played punk, ska, and rock inspired by the "Manchester sound." The group primarily focused on live shows although it did record one demo ("The Road Song") at a Montreal studio, and one live performance (Station 10 in Montreal, October 1992). The songs "Coolest Guy" and "Vampire," among others, come from this period. The group briefly disbanded in 1993 – largely because its drummer had vanished.
The Planet Smashers released Descent Into the Valley of the Planet Smashers on July 12, 2011.
They continue to play shows bi-monthly limited to the Quebec and Ontario area due to Matt's busy schedule with his children and family.
Their eighth studio album, titled Mixed Messages, was released April 8, 2014 via Stomp Records. The band currently finished their first Canadian national tour since 2008 in support of the release. They also released a video for the single "Tear It Up" featuring the lovely ladies from the Montreal Roller Derby league.
source: Wikipedia