Reel Big Fish
Band Members :
Aaron Barrett (lead vocals, keys/synthesizers, and guitar), John Christianson (a.k.a. Johnny Christmas) (trumpet and backing vocals), Derek Gibbs (bass and backing vocals), Matt Appleton (a.k.a. Saxl Rose) (saxophone and backing vocals), Billy Kottage (trombone and backing vocals), Edward Larsen (drums)
Links :
Videos
Gallery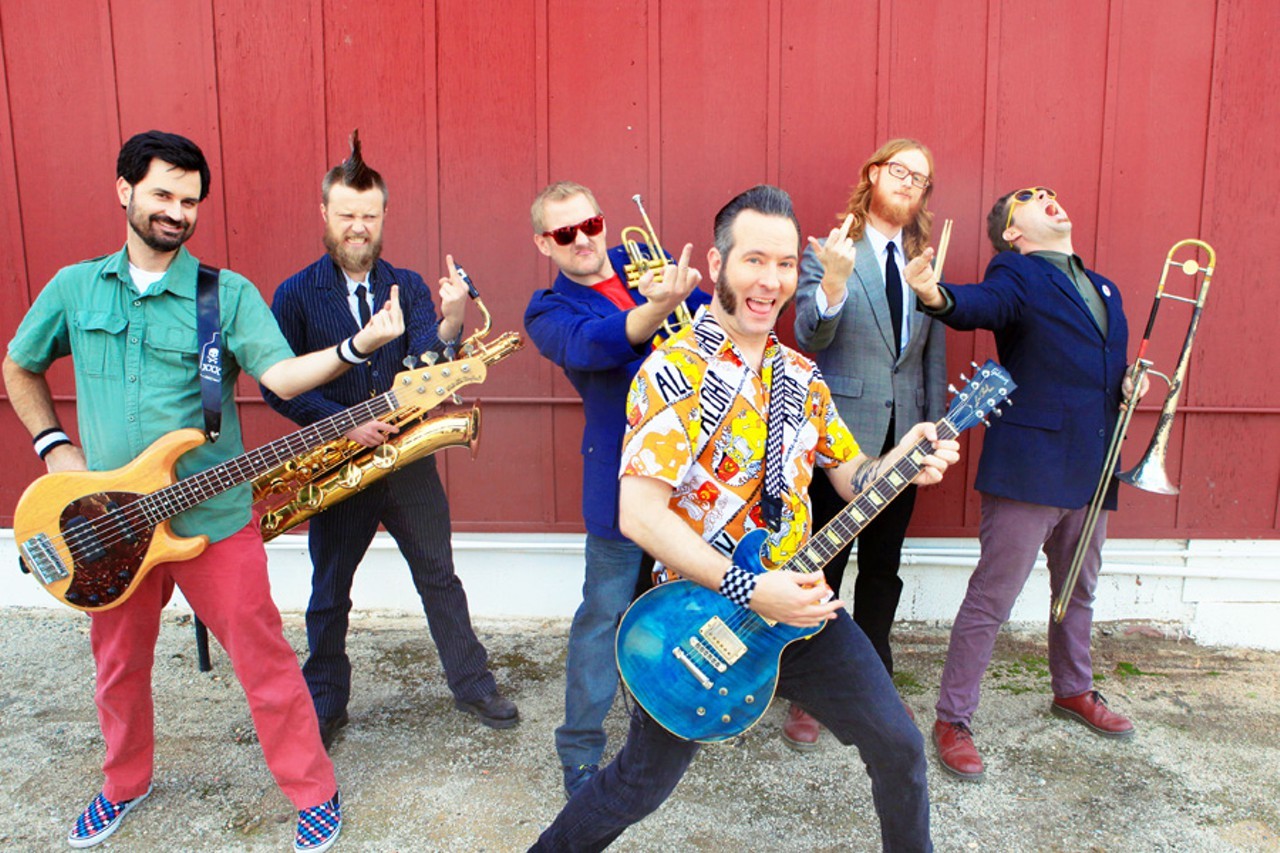 Biography :
The group started as a cover band until they released a demo in 1992, called "In The Good Old Days". With the departure of Ben Guzman soon after, then backup vocalist Aaron Barrett took his place as lead singer. The band then changed its genre to ska.
Reel Big Fish's self-released debut album, Everything Sucks, was successful and became an underground hit spread by word-of-mouth, which led to the band signing a deal with Mojo Records.[1] In August 1996, the band released the album Turn the Radio Off on the new label, which appealed to fans of ska punk style, and the band began touring throughout the United States. After the single "Sell Out" became well known in mainstream venues, including MTV, the album peaked at number 57 on the Billboard charts, staying on the charts for 32 weeks. However, the ska revival was short-lived, and the group's 1998 album Why Do They Rock So Hard? failed to match the sales of the band's previous record. In 1998, the band appeared in the movie BASEketball, performing in the stands to rouse the crowd. The band also collaborated on the soundtrack with a cover of a-ha's "Take On Me". Why Do They Rock So Hard? was the last album for two members of the band. Trombonist Grant Barry was fired for his conduct, culminating with him committing battery on a security guard at Mississippi Nights during a concert in St. Louis and drummer Andrew Gonzales left the band to spend more time with his family.
As of 2006, the band is no longer signed to a major record label, and has since been independent. After many line-up changes throughout the years, front man Aaron Barrett remains the only founding member in the band.