Streetlight Manifesto
Band Members :
Tomas Kalnoky (lead vocals, guitar), Jim Conti (vocals, alto and tenor saxophone), Chris Thatcher (drums), Mike Brown (baritone and alto saxophone, backing vocals), Pete McCullough (bass, backing vocals ), Matt Stewart (trumpet, backing vocals ), Karl Lyden (trombone, backing vocals)
Links :
Videos
Gallery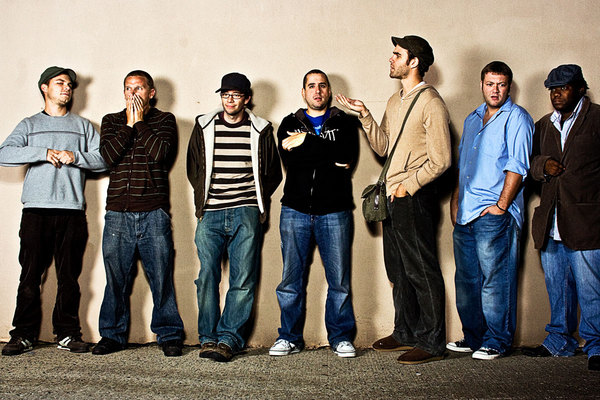 Biography :
Kalnoky, Ansley and Egan (also from New Jersey) had previously been members of Catch 22. In 2002, Kalnoky gathered a large number of musicians—including Ansley and Egan, several members of One Cool Guy, his brother Achilles, and several of Achilles' orchestra friends—to perform on the Bandits of the Acoustic Revolution EP, A Call to Arms. Included on the five track independently released CD is "Here's to Life", a song which Streetlight Manifesto reworked and included on Everything Goes Numb, and a new version of Catch 22's "Dear Sergio", which included a new verse. Both Streetlight and the Bandits are members of The RISC Group, a collaboration of artists to self produce and retain rights to their music.
During the second leg of The Last Good Fight tour, it was revealed that Dan Ross had returned to the band, now playing alto and tenor saxophone. It was also revealed that Nadav Nirenberg had parted ways with the band and been replaced by Karl Lyden.
On April 19, 2017, Streelight Manifesto and Victory Records issued a joint statement that the two parties had reached a settlement under which the band left the record label, and the record label sold the band all master recordings for an undisclosed sum.