Swingin' Utters
Band Members :
Johnny "Peebucks" Bonnel (lead vocals), Darius Koski (guitars, vocals, accordion), Jack Dalrymple (guitar, vocals), Miles Peck (bass, vocals), Luke Ray (drums)
Links :
Videos
Gallery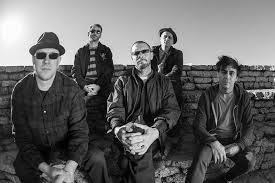 Biography :
Johnny Peebucks and the Swingin' Utters began in Santa Cruz, California, later moving to San Francisco. The early lineup comprised singer Johnny "Peebucks" Bonnel, guitarist/accordionist Darius Koski, bassist Kevin Wickersham, and drummer Greg McEntee. The band changed its name to The Swingin' Utters in 1994.
In April 2013, the band toured Australia with Dropkick Murphys and Frank Turner. Most recently the band has released their latest album "Fistful of Hollow" which was released in 2014. It is also the last album to see original member and longtime drummer Greg McEntee who has recently left the band in mid 2015. He was then replaced by Luke Ray. This exit leaves Johnny Bonnel as the only original member left in the band.
Swingin' Utters is currently on tour to support the celebration of the Fat Wreck Chords 25th Anniversary.
source: Wikipedia