Club Soda
Address :
1225 St-Laurent Blvd
Montreal, Canada.
Years Active :
1982
- Present
Links :
Instagram
Club Soda is a music venue in Montreal, Quebec, Canada. Its address is 1225 Saint Laurent Boulevard in the Quartier des Spectacles in the borough of Ville-Marie.
Gallery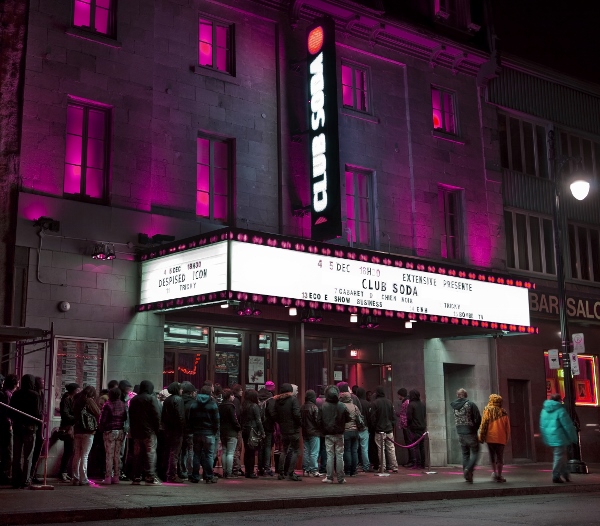 Biography :
http://www.clubsoda.ca/en/History
1982
In the early 1980's, the late Guy Gosselin, along with filmmakers André Gagnon and Martin Després, had an idea of transforming a reception hall located on Parc Avenue into a new kind of cabaret. George Thurston, a.k.a. Boule Noire, was entrusted with the mission of inaugurating the hall during one week in October 1982. In February 1983, Club Soda forever changed the history of Quebec's show business with the premiere of Lundi des Ha! Ha!, animated by Ding et Dong.
1985
Producers Michel Sabourin and Rubin Fogel, along with Martin Després, became owners of the cabaret. Club Soda quickly turned into a genuine melting pot of the modern entertainment industry. From Ding et Dong to Daniel Lemire, from Rock et Belles Oreilles to Michel Courtemanche, from Marjo to Richard Séguin, from Daniel Bélanger to France d'Amour, from Térez Montcalm to Lhasa de Sela, from Robert Charlebois to Michel Pagliaro, many of today's artists made their successful debut at the Club Soda.
1999
Club Soda's cramped stage, lack of headroom, and tiny backstage area, along with the absence of both a loading dock and a parking lot weighed heavily on both the quality of its programming and its ticket sales. As a result, this cherished Park Avenue institution was forced to close its doors indefinitely on July 30th, 1999.
2000
Just a few months later, Club Soda was reborn and given a second life in a new location custom designed by renowned Montreal architect Luc Laporte. The new Club Soda was inaugurated on March 21st, 2000, by the Minister of Municipal Affairs, Louise Harel, and was outfitted by contributions from the Quebec Government, the City of Montreal, and the Fonds d'investissement de la culture et des communications.
Club Soda quickly became a vital asset to the major festivals that have become instrumental to Montreal's cultural effervescence: the Festival International de Jazz de Montréal, the Just for Laughs Festival, the Francofolies de Montréal, and the Coup de Coeur Francophone, just to name a few! To the delight of improv enthusiasts, the Théâtre de la LNI troupe currently calls Club Soda home during its regular season!
2003
The Quartier des spectacles Partnership was established one year following the Sommet de Montréal. Club Soda was majorly involved in the early discussions, and is honoured to have had an active role in the launch of a major project for Montreal's downtown core. Year after year, Club Soda's management has contributed to the revitalization of the City, and firmly believes that art and culture are key factors affecting the City's vitality!
2012
Club Soda celebrated its 30th anniversary in high fashion! On December 3rd, the Je suis né un lundi…au Club Soda unique event resurrected the defunct Lundis des Ha! Ha! Led by artistic director Louise Richer, the celebration featured an impressive roster of comedians including Michel Barrette, Normand Brathwaite, and Lise Dion. The Party du 30e ball, headlined by DJ Poirier and Yann Perreau, had hundreds of attendees boogying it up until the wee hours of the morning.