Propagandhi
Band Members :
Chris Hannah (vocals, guitar), Jord Samolesky (drums, vocals), Todd Kowalski (bass, vocals), Sulynn Hago (guitar, vocals)
Links :
Videos
Gallery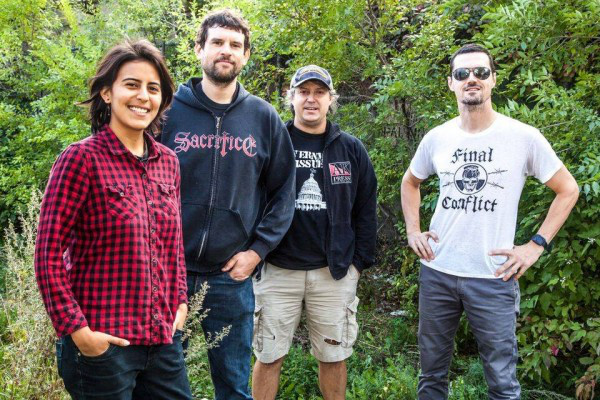 Biography :
In 1986, Samolesky and Hannah recruited original bassist Scott Hopper via a "progressive thrash band looking for bass player" flyer posted in a local record shop. Hopper was replaced three years later by Mike Braumeister, which completed the first lineup to perform live. After the band established itself through several demos and larger shows, including one with Fugazi, Braumeister moved to Vancouver, and John K. Samson became the band's third bassist.
In 1992, Propagandhi played a show with California punk rock band NOFX and included in their set a cover version of Cheap Trick's "I Want You to Want Me". Impressed by their performance, NOFX front man Fat Mike signed them to his independent record label Fat Wreck Chords. The band later accompanied him to Los Angeles, where they recorded their debut album, How to Clean Everything, released in 1993. The band spent the next three years touring and issuing several smaller releases, including the How to Clean a Couple o' Things single on Fat Wreck Chords, a split 10″ record with I Spy, a split 7″ with F.Y.P, and the double 7″ Where Quality is Job No. 1, the latter three on Recess Records.
In 1996, they recorded and released their second album, Less Talk, More Rock, via Fat Wreck Chords. The title was ironic, as they had become well known for lengthy song explanations and speeches during live performances. The album was more politicized than its predecessor, with such song titles as "Apparently, I'm a 'P.C. Fascist' (Because I Care About Both Human and Non-Human Animals)", "Nailing Descartes to the Wall/(Liquid) Meat Is Still Murder", and "… And We Thought Nation-States Were a Bad Idea". Ramsey Kanaan, founder of the anarchist publishing company AK Press, appears on "A Public Dis-Service Announcement from Shell" as the voice of the petroleum multinational. Partial proceeds of the album were donated to AK and other activist groups. Less Talk, More Rock caused some controversy at the time of its release due to the band's pro feminism and "gay positive" stance which, according to Hannah, clashed with the sexist and homophobic culture of the West Coast punk rock scene that the band had become associated with.
source: Wikipedia